Cher's Famous Artwork
28 November 2020
"Prayer at Valley Forge"
by Arnold Friberg, 1975, American
Happy Birthday to my wonderful husband! He loves America! And as a teacher of American History and American Government, he loves teaching its values and history to the next generation. He also believes in the power of prayer to Almighty God!
To honor his birthday, I asked him for his favorite artwork to post this week; he selected this one. Why? Because to him, it shows the perseverance of this great man, our first president – and the dependence of George Washington on the power of prayer to God.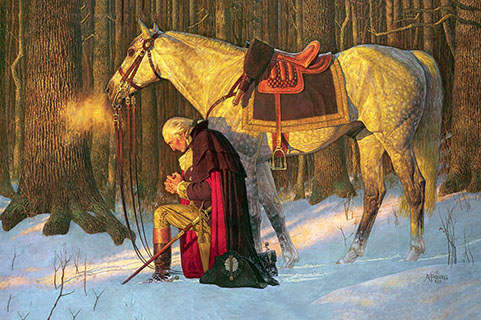 "Prayer at Valley Forge" was painted in 1975 in honor of our American bi-centennial by contemporary American artist, Arnold Friberg, and is the most well-known painting of the American Revolution and by this artist. I discovered a documentary by the artist on this painting that is worth checking out. https://www.revolutionary-war-and-beyond.com/prayer-at-valley-forge.html
As we move into a new era in our government, let us pray that the power of prayer to Almighty God not be forgotten by us or by our leaders
TRAVEL TIP: In this pandemic, when travel outside our country is severely limited, I encourage us all to explore our own country, our states and our communities for the historic and cultural treasures they hold for us. Hopefully, by summer 2021, our historic American sites will be open for us to visit and explore! A close family member, a teacher, is currently teaching all her classes virtually. She has traded her apartment lease payments for payments on an RV in which she will be trading international travel for USA travel experiences for the next couple of years!
Related Posts